Topaz (5 bed)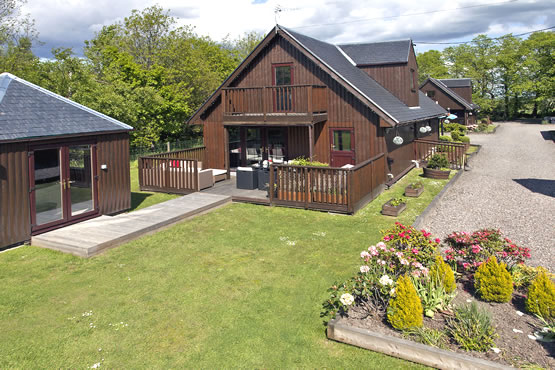 Accommodation
This lodge has 5 bedrooms, 10 single beds, one double bed and 3 bathrooms one which is en-suite.
Inventory
Fully-fitted kitchen with hob, double oven, fridge, freezer, washing machine, dishwasher, utensils and cookware for 10 guests. 55 inch HDTV on the wall, DVD player.
Availability
To check the availability of this lodge, use the calendar below. If you need to compare availabilty for all lodges, scroll to the bottom of the page...
About this Lodge
The Topaz Party Lodge provides a new level of space and comfort with a floorspace of nearly 100 square metres (1,100 square feet).
The elegant open plan lounge/dining area, featuring a 55 inch HDTV with Italian furniture, very spacious, airy and sophisticated. This is perfectly complemented by an ultra modern kitchen which is fully equipped with everything needed to serve a full scale dinner party. A beautiful place to entertain friends, family and loved ones whether it's for a luxury holiday, private exclusive party or hen party is set in a countryside location.
This lodge has 5 bedrooms with 10 single beds and one double sleeping up to 12 guests, beds can also be linked together to create king sized beds.
Private hot tub and large terrace with rattan furniture.
 
Downstairs
The sitting room has a large corner-shaped cream leather sofa, 55 inch HDTV on the wall, DVD player, coffee tables and storage for CDs, docking stations, and DVDs.
The open plan dining room has a beautiful Italian black and white modern table, with patio door leading onto the large decking and beautiful views.
The kitchen is also open plan having a large breakfast bar, hob, double oven, fridge, freezer, washing machine, dishwasher, utensils and cookware for 12 guests. The kitchen has a door also leading onto the large decked area.
The master bedroom has been decorated to a very high standard with black Italian high gloss furniture.  3 single leather beds a large en-suite bathroom which has been decorated to complement the master bedroom having a beautiful spacious figure of eight shower and plenty storage space.
The twin room has two black leather single beds, mirrored wardrobe with drawers.
The bathroom has a large bath with over head shower, WC, sink and storage.
 
Upstairs
Upstairs in the lodge there is a very spacious landing, which has a sofa and TV area.
A  large bedroom with a balcony which has 3 single beds which can also be linked together to create kingsized bed,
The bedroom has a luxury feel to it with  white leather beds, white high gloss furniture with dressing table, wardrobe and plenty of drawers.
A spacious twin bedroom is bright a spacious with 2 black leather single beds, sliding mirrored wardrobes and storage.
Finally, there is another beautifully decorated bedroom having awhite diamonte leather double bed , mirrored wardrobe and storage.
The upstairs bathroom is very spacious with large corner shower, toilet and sink.
 
Patio
Leading from the sitting room and kitchen there is a very large decked terrace area with rattan sofas, chairs ,tables, plants and a barbecue. The views from here are stunning.
This lodge is also suitable for wheelchair access.